The Queen actress Zenande Mfenyana found herself on the receiving end of a Twitter backlash after she made 'rude' comments about her helper. She has since deleted the post which landed her in hot water…
Not for the first time this year, Zenande Mfenyana found herself trending for all the wrong reasons. This time it was because of a tweet she shared which many felt contained classist undertones. It didn't take long for South Africans to give her a piece of their minds (again). To her credit, Zenande quickly removed the tweet once she saw that it had caused a stir. But by that time, the damage had been done and her reputation took a further hit.
Why bring the matter to the timeline?
It was a normal day in Mzansi until The Queen and MTV Shuga star Zenande Mfenyana took to her timeline to share the alleged frustrations she's been experiencing with her helper. Whatever her issues, there's never any excuse to publicly belittle someone. And that's exactly what Zenande was accused of doing when she vented on the timeline.
The actress and model wrote to her 1 million followers, "Helpers are exhausting! Yerrr!".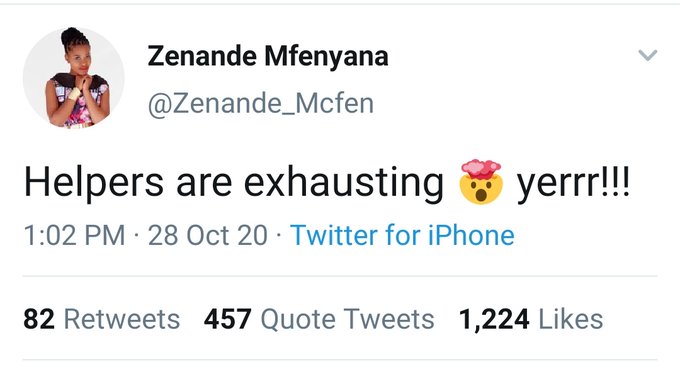 Considering that this tweet came from someone who earns a top-tier salary, describing a working class employee, it came as no surprise that instead of agreeing with her, the majority of tweeps called Zenande out for her classist tweet. Others suggested that if she had an issue with her helper, it should have been dealt with in private.
Some of the top replies read:
@Fezile_Tapu: My mother is a Domestic Worker/helper close to 40 years and if I show her this, it will break her and definitely uzokuzonda [She will despise you] Zenande. Before tweeting think about our mothers and fathers who are your fans.
@Real_Precious:I never expected this from you Zenande. Just so you know My Mom is a helper and she's not exhausting! She's been working for her boss for almost 25 years and she treats her like a Queen. She built her a house and even pays for her UIF. Learn to appreciate your helpers!
@Katlego_Sathy:
I have never seen a Boss or a manager who writes ill things about their staff on a social media….. I mean meetings are meant for matters like this (
address
internal issues)…. Helpers are part of family so talking to them about issues should be the easiest thing.
A recurring pattern?
As mentioned above, this is just the latest occasion on which Zenande has found herself in hot water following some contentious comments.
Earlier this year she was slammed on the timeline after apparently swearing at a follower who had simply tried to express their support for the actress after she had been bullied for her pregnancy looks.
Do you believe that Zenande was out of line for her comments this week?
#TheQueen airs on Mzansi Magic from Mondays to Fridays at 21h00. Here's what fans can look forward to this week: