For all the latest news about the coronavirus, click here.
Wearing masks is the new normal, and as Minister in the Presidency Jackson Mthembu reiterated "It is the law. You must wear a mask."
And if you don't have a cloth mask, a scarf or t-shirt wrapped around your nose and mouth is also sufficient. Whenever you enter a public space, you are required to wear a mask, and yes that includes while exercising within the 5km radius of your house.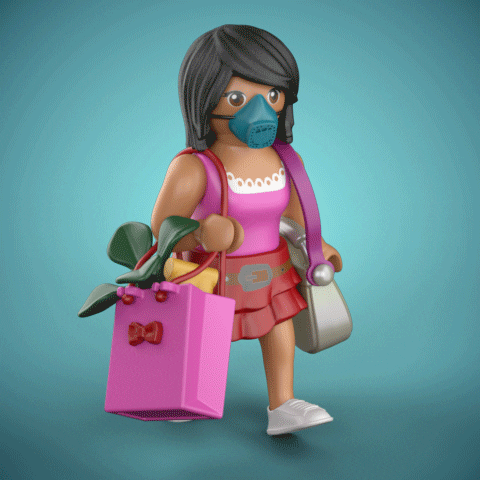 What kind of mask should I wear?
The general public is encouraged to wear cloth masks and leave surgical and N-95 masks for health care workers. Cloth masks should have at least 3 layers to be effective. If you don't have a cloth mask, a scarf or t-shirt wrapped around your nose and mouth is also sufficient.
How often should I wash a cloth mask?
A cloth face mask should be washed then ironed regularly, but if any of these have happened, immediately wash or replace them.
Check out: 7 Celebs rock fashionable face masks 
How many masks should I have?
It's recommended that you have at least two so that while one is in the wash, you have a clean one to wear.
How do I stop my glasses from fogging up while wearing a mask?
If you wear glasses, then you've probably already experienced this problem. Firstly, make sure that your mask has a proper seal. Ideally, no air should escape through the top of your mask. Secondly, wear your glasses further down your nose. Finally, make sure your glasses are treated so that they don't fog up. If they aren't, do what scuba divers do, use toothpaste to clean the lenses or hot soapy water (dishwashing liquid) to reduce fogginess.
Should I wear a mask while outside exercising?
Under level 4, you are allowed to exercise within a 5km radius of where you live. It is recommended that you wear a mask while outside, including while exercising.
Can I get arrested for not wearing a mask?
While there has been some confusion, in terms of current regulations, anyone without a mask can be prevented from entering a building, place, or premises. You can, however, be fined.
Guidelines for use are as follows:
1. Only use a mask that has been washed and ironed.
2. Wash your hands before putting the mask on.
3. Place the mask with the correct side facing your face, and ensure that it covers both your nose and mouth properly.
4. Tie the strings behind your head, or if you are using elastic bands, make sure these are tight.
5. Make sure it fits well. Move it around to get the best fit. Never touch the cloth part.
6. Once you have put on the mask, DO NOT TOUCH YOUR FACE again until you take it of.
7. When you take it off, undo the ties, and carefully fold the mask inside out, hold it by the strings/elastic and place the mask in a container reserved for washing the cloth mask.
8. Wash your hands thoroughly and dry before doing anything else.
9. Wash cloth masks with warm soapy water and iron when dry.
10. You must have at least two cloth masks per person so you will be able to wash one and have a clean one ready for use.
11. Masks should be washed with soap and hot water, rinsed thoroughly and ironed.
And remember to follow these steps to reduce the risk of spreading COVID-19
Wear a cloth mask and ensure that it covers your nose and mouth
Wash your hand regularly with soap and water or hand sanitizer
Sneeze and cough into your elbow while still wearing your mask
Social distancing still applies while wearing a mask
WATCH: Suzelle DIY shows you how to make a mask from a pair of old jeans
While All4Women endeavours to ensure health articles are based on scientific research, health articles should not be considered as a replacement for professional medical advice. Should you have concerns related to this content, it is advised that you discuss them with your personal healthcare provider.