One of the primary goals of weight loss – for most of us – is to lose fat and look better in our favourite jeans than we currently do
And if that's your goal, then losing weight is great, but losing physical size on certain areas of your body is vital.
Think about it like this: if your goal weight is 55kg, and a genie came and said he could magically make you weigh 55kg without changing anything about your appearance, would you be happy?
I thought not.
You want to look fitter, healthier, toned. It's not just about the number on the scale, it's what you see in the mirror, and how you feel in your clothes.
So here are some tips to help you get the best LOOKING body at the same time that you lose the kilos…
1. First things first – think 'HEALTHIER'
You're really going to struggle to lose weight if you're not eating healthily. What does 'healthily' mean?
Well, for starters, it means lots of nutrients and fibre in your diet, as well as a good balance of the three macronutrients (carbohydrate, protein and fat). This is the best way to get started. Don't try to cut out anything completely, like some fad diets suggest. This will be frustrating and you will end up ditching the diet. Balance is always key. Make sure your plate includes HEALTHY, fresh, food in the most natural form.
If you know that processed carbohydrates make you feel heavier, then scale those down a little and the other two up, or get all your carbs from veggies and fruits instead of whole wheat bread and pasta. But a good starting-point for most people is to eat equal quantities of each macronutrient.
Lastly, if you err, err on the side of eating too many vegetables. This is where the nutrients are coming from, and they'll keep you feeling full too.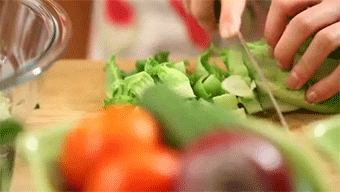 Click page 2 below for more trimming tips…
While All4Women endeavours to ensure health articles are based on scientific research, health articles should not be considered as a replacement for professional medical advice. Should you have concerns related to this content, it is advised that you discuss them with your personal healthcare provider.