When it comes to kitchen gadgets and tools there are so many out there that it's hard to tell which are necessary and which actually work. We've taken the guesswork away by bringing you a list of kitchen tools we can't live without. And how do we know this? Because we use these all the time. You can thank us later.
A steamer that works with any size pot
Steamed veggies are delicious but conventional steamers can be difficult to clean and some come as standalone appliances (which if we're honest usually end up gathering dust). The best way to make steamed veggies (or dumplings or meat) is to use one of these easy to use (and clean) steamers.
This Joseph Joseph Nest Steam Set, R499 works on any size pot and allows you to steam different veggies without mixing flavours.
Joseph Joseph Lotus Steamer Basker, R349
An easy way to poach eggs
Our favourite way to eat eggs is in a cake, but after that, we love poached eggs, particularly Eggs Benedict.  While you can make poached eggs like a chef by creating a whirlpool in boiling vinegar water, but we have yet to master that skill. An easier way is to use a pan, like the  Avanti pan for poaching eggs, R799, which can also be used as a regular saucepan or to steam veg.
While the pan above could be considered an investment, if you're looking for a budget-friendly alternative, try these Silicone Egg Poachers, R24.99.
An African Grater Plater that grates garlic, ginger, parmesan & more like a boss
Fresh garlic makes anything taste better but using it can sometimes look like this: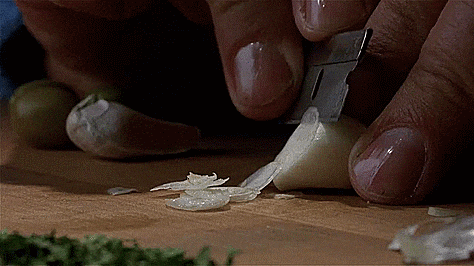 The African Grater Plate, from R150 and found at various markets, makes it so easy to have fresh garlic. It is fast, there is no worry of grating your fingers and it is easy to clean. It works just as well for ginger, parmesan, chocolate and lemon rind.
Kitchen scissors on the fridge
Are you always looking for scissors? Get kitchen scissors that can easily be stored on the fridge. This way you'll always know where there are, provided you put them back after use. The scissors also have a bottle opener and come apart so that they can be easily cleaned.
Plastic ice cubes
If you always forget to fill up the ice tray then look no further than plastic ice cubes. Simply place in the freezer and when done, wash them and put back in the freezer. These plastic ice cubes don't dilute your drink and they add a splash of colour. Store in the original container or a small plastic bag in the freezer.
Stop food or oil splattering with a splatter screen
If you're frying up a storm, avoiding oil splatters can be tough. Not only does this hurt but it can damage your clothes. Get a splatter screen and we recommend going for the larger size so that you only need one that will fit most frying pans.
Legend 29cm Splatter Screen, R159
An ice cream scoop with a lever for measuring out batter
This is a baker's best friend. Make perfectly sized cupcakes, muffins, biscuits, meatballs, pancakes, etc, by using the ice cream scoop to measure out batter. Plus you have an ice cream scoop to dish out delicious servings of ice cream. And if you need a reason to use your ice cream scoop for baking, here is a double chocolate cupcake with chocolate truffles recipe to get you started.
OXO Good Grips Trigger Ice Cream Scoop, R269
Disclosure: Please note that some of the links above are affiliate links, and at no additional cost to you, All4Women will earn a commission if you decide to make a purchase after clicking through to the link. Please understand that we have experienced all of these companies, and recommend them because they are helpful and useful.