Last updated on Jan 26th, 2021 at 01:20 pm
Minnie Dlamini-Jones and France's number 1 champagne G.H. Mumm revealed the gravity-defying Champagne – Mumm Grand Cordon Stellar.
This is the first ever champagne bottle designed to be enjoyed in zero gravity. And because of this, you have to drink the champagne in a certain way with special champagne flutes.
The project took over three years and G.H. Mumm teamed up with Spade – a young agency specialized in space design that includes astronauts.
Only 30 bottles were made and a monetary value can't be defined.
Apparently, drinking champagne in space brings out the fruitiness of the grapes.
The best part is watching how they drink champagne in zero gravity – you have to catch the bubbles!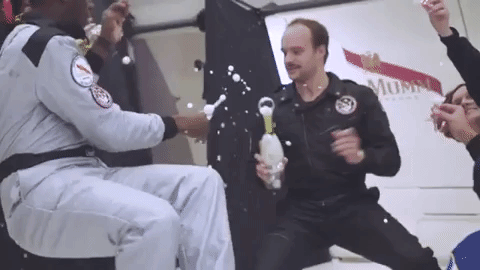 Watch as Chief Entertainment Officer Usain Bolt and Minnie Dlamini-Jones celebrate in zero gravity.
I am the luckiest girl in the world!!! I flew all the way to Paris to drink @GHMUMM in Zero Gravity

Each of the bottles comes with its own bodyguard.

GH Mumm giving us James Bond vibes.

Want to stand a chance of winning a zero-gravity champagne experience in France? 

To enter the contest, follow the steps:

1: Purchase a G.H. Mumm champagne Christmas giftbox

2: Obtain the code which is printed under the specially marked foil on the bottle

3: Visit mumm.com/stellar and follow the prompts to the promotion entry page

4: Enter the code and fully complete the entry form and the requested details

5: Submit the online entry form

The Grand Prize winner will enjoy a trip for two people to Bordeaux, France including Business Class flight tickets, accommodation and two seats on the AirZeroG flight to experience champagne tasting in weightlessness.

*Ts & Cs visit: www.mumm.com/stellar

 Not for Sale to Persons Under the Age of 18. 

Minnie Dlamini-Jones with bottle number 2 of 30 ever made.