Halloween is around the corner and whether it is for an office party, a big night out or a themed dinner with friends, we've got your last-minute Halloween costume ideas for adults covered.
Not only are these easy to create but they are also witty. You can thank us later.
Facebook
With everything that has been going on with Facebook this year, this costume is not only topical but it only requires a washable marker or eyeliner. Channel Jim from The Office and write "book" on your face or cheek if you want to be more subtle.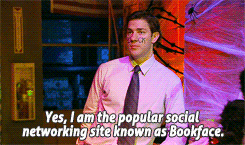 Party animal
All you need for this look is a party dress and your choice (or whatever you can find around the house or from friends) of animal. A cat is really easy to do – add cat ears, draw on a black nose and whiskers with eyeliner and put on your favourite party dress. A party hat is optional.
A formal apology
Wear your favourite black dress or a formal outfit and make a "sorry" sign or sash out of paper. This one is sure to keep people guessing and once they figure it out, you'll get that nod that tells you that your Halloween costume rocks.
 Read more: Spooktacular nail inspiration just for you
Regina George
If you don't get this reference then where have you been hiding? Mean Girls has become a cult classic that we never get tired of watching. Wear a colourful bra and cut holes in a white tank top. Pair with a skirt and you're good to go.
Serial killer
If you really want to go for the scare factor, get a box of cereal and stab the box using a steak knife. Wear what you like, but make sure you carry your prop with you. If you are feeling more creative, buy a fun size cereal pack and pin the boxes to a shirt and add some decoration with that red lipstick that is always at the bottom of your make-up bag.